INTERESTING DEATH FACT OF THE WEEK
---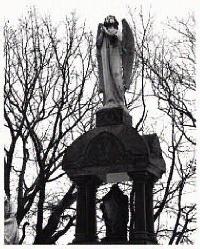 ~ He shall give his angels charge over thee
He that keepeth thee will not slumber. ~
---
DEFILEMENTS OF THE FAMOUS

Part of the price to be paid for fame in one's lifetime is sometimes to run the risk of defilement after death. Many reasons can be given for the opening of a grave or vault: to check that the alleged occupant is indeed in residence: to transfer the encumbent to a more prestigious sepulchre; to take bits for souvenirs; to raise money by ransom; or, more usually, totake revenge on an adversary. An early example of revenge-exhumation was the abuse perpetrated on King Harold Harefoot, sonof King Cnut, by his half-brother Harthacnut. According to the chronicler William of Malmesbury, 'He [Harthacnut] ordered the body of Harold to be dug up, the head to be cut off, and thrown into the Thames, a pitiable spectacle to men! but it was dragged up again in a fisherman's net and buried in the cemetery of the Danes at London [now St. Clement Danes].' Six hundred years later the need to settle old scores was again amply demonstrated by the defilement of Oliver Cromwell.
~*~
CROMWELL, THE CORPSE THEY KNOCKED AROUND A BIT.

Oliver Cromwell, Lord Protector of England, and responsible for the trial and execution of King Charles 1, died of fever in 1658. He was buried in Westminster Abbey. Two years later, on the restoration of the monarchy, the followers of Charles II went looking to revenge themselves upon the regicide. Cromwell's body was disinterred from Henry VII's Chapel and was hanged at Tyburn in front of a jeering and jubilant mob. The corpse was then decapitated, and the head was spiked on the roof of Westminster Hall, where, according to tradition, it remained for 25 years. One stormy night, a high wind lifted the grisly relic from it's spike and deposited it at the feet of a sentry, who bundled up the desiccated head and took it home.
At this point, the whereabouts of the head becomes shrouded in mystery. In 1787, an actor named Russel sold it to a museum near Clare Market, which in turn sold it to Josiah Wilkinson. Wilkinson would take the head, still fastened to it's spike, to parties. His grandson, Horace Wilkinson of Sevenoaks, presented the head to Cromwell's old college, Sidney Sussex, in Cambridge. Questions as to the authenticity of the relic were answered by comparing the features of te head to those of the death mask taken at the time of Cromwell's death. A distinct mark was identified on the hard, parchment~like skin over the right eyebrow, close to the bridge of the nose - the sight of Cromwell's famous wart. The head has been buried at Sidney Sussex in a location known only to a small number of the college staff.


LINKS:
World Wide Web Of Death
Goodbye!
The Digital GraveYard
Death by Misadventure: REAL Dumb Ways to Die
We'll Always Remember
Death, Cemeteries and Funeral Customs
The Tombstone Tourist
OCFA - The Ontario Cemetery Finding Aid - Genealogy
Historische Friedhöfe in Berlin / Historic Cemeteries in Berlin
Graveyards of Chicago
Find-A-Grave
Epitaph JR's Celebrity Grave Photos
DC Cemeteries
City of the Silent
c e m e t e r i e s
BCCFA - British Columbia Cemetery Finding Aid - Genealogy
Associated Catholic Cemeteries
Go back